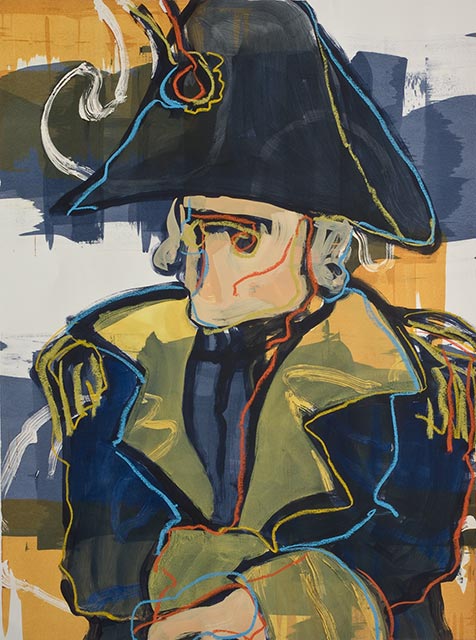 Fortify
2007, 50" x 38", acrylic and oil pastel on paper
In this series I explore the darkest of human occupations, war. History shows the warrior as one of humanity's oldest and most complex archetypes--the transmutation of the self while facing mortality.
The paintings are acrylic and oil pastel on paper. I use multiple washes and liquid resist to create layers. The flatness and transparency of the paint casts the figures in a ghostly light, a faint echo reminiscent of past portrait subjects. The brightness of the pallet and careless intensity of line offers contemporary relevance, adding contrast and urgency to the figure.
These images of soldiers from past eras represent pathos, determination, reluctance, and despair. These anonymous men struggle with the issues and mind-sets of their time, as we do. They represent the unease of living and striving. The impacts of their successes or failures are lost to us, absorbed by new times and cultures. They represent our own efforts to mark time and memory with our actions. To understand them is to understand ourselves.